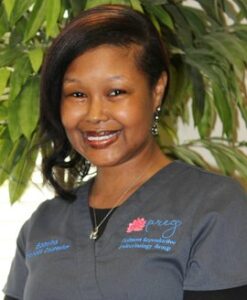 Financial Counselors at PREG are more than just staff members who speak to patients about financial options. They're also great listeners! They understand the physical, emotional, and financial stress infertility causes our patients, and some have even gone through treatment themselves.
Our Financial Counselors are very engaged in our patients' plan of care. When a new patient calls to schedule an appointment, our front office staff acquires as much information as possible from the caller. Typically, we ask each patient the reason for visiting our office, referral base, and health insurance information. This information not only helps the doctors understand why the patient is seeking treatment, but it also helps the Financial Counselors prepare to speak with the patient about their financial options and obligations.
At your initial consultation with the doctor, a member from our financial team will also meet with you. The Financial Counselor will explain, in detail, what benefits are available to you through your health insurance plan. They will also provide you with financing options and assistance programs through third-party vendors to help with your financial obligations throughout your treatment here at PREG.
PREG also has Patient Account Specialists who work very diligently to verify benefits, obtain prior authorizations, and process insurance claims to ensure payments are received in a timely manner. They work closely with the financial counselors to make sure claims are coded and processed correctly.
Our Financial Counselors are compassionate, understanding, and dedicated to help you on your journey to becoming a parent! We take pride in making sure our patients receive the best care possible!
-Sabrina Harris, Supervisor