In honor of our patients and those struggling with fertility issues the team at Piedmont Reproductive Endocrinology Group (PREG) has taken the hashtag #WECANALL to the next level during National Infertility Awareness Week, April 24-30th. As part of National Infertility Awareness Week, we're honoring our patients and their struggles by doing our part to share a random act of kindness to help brighten someone's day. Kindness makes the difference, and PREG wants to do our part to help make someone smile this week and beyond.
"Infertility affects 1 in 8 couples. For those who yearn for a family, the pain and loneliness are very real and many struggle in silence," says Dr. John Nichols, Founder and Medical Director at Piedmont Reproductive Endocrinology Group. Scientific advances have made it possible for up to 95% of patients to achieve pregnancy with treatments, persistence, and advanced reproductive technology. PREG is proud to offer all modalities of care from medication, insemination, in-vitro fertilization, donor egg IVF and gestational carriers.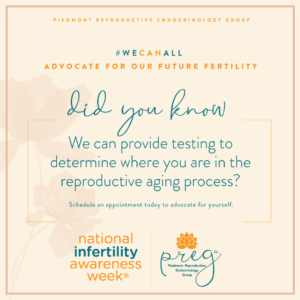 PREG's mission is to support and nurture all patients regardless of race, religion, sexuality or economic status, through all types of treatment cycles, but we're taking it a step further to make someone smile while raising awareness for our cause. Fertility issues are near and dear to our hearts as many of our staff, family members, and physicians have experienced firsthand the struggles faced by our patients. National Infertility Awareness Week gives all of us the opportunity to help others understand, too. #WECANALL
Taking Charge of Your Fertility from Resolve www.resolve.org
Take charge of your fertility by asking questions, educating yourself and partner, and being your own advocate for your fertility. No one knows your body more than you. Start by asking yourself these questions:
Are my periods painful?
Can I track when I ovulate?
Have I had more than one miscarriage?
Do I have an unhealthy Body Mass Index (BMI; either underweight or overweight)?
Has my partner or I ever had a sexually transmitted infection?
If you answered "Yes" to any of these questions, it may be time to talk to your healthcare provider regardless of how long you have been trying to conceive.
According to the American Society for Reproductive Medicine, if you are under the age of 35 you should consider seeing a specialist if you have been actively trying to conceive after 12 months of unprotected intercourse. 6 months for women over 35.
For more information on Piedmont Reproductive Endocrinology Group including our board-certified reproductive endocrinologists and treatment options visit: www.pregonline.com
PREG has comprehensive fertility/IVF centers at our Greenville, Columbia and Lowcountry (Summerville at Nexton) locations as well as offices in Spartanburg and Asheville, NC.